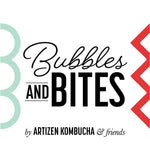 Bubbles & Bites is a service we pivoted with during Covid. Once every 2 weeks we open online orders for you to purchase local goodies from makers / bakers / farmers in the area.
You get the first pick at Artizen Kombucha small batch seasonal flavours & all the other yummies including seasonal organic produce!
The online orders for this round of Bubbles & Bites opened today with deliveries set 
for this Friday.

We deliver to:
Around Perth, Ottawa, Almonte, Smith's Falls, Kanata, Stittsville, Orleans.

Spread the word or just make a note. This service will be even more valuable for folks come Fall / Winter.